Celebrating Moments in Style
We believe that life is made up of a series of moments, all of which should be toasted, tasted, and taken in.
We thrive off of the idea of being present for the festivities that punctuate your everyday life, and making refrigeration that will preserve more than just what you put in it but the feelings you experience around it.
The accessibly exclusive collections we've created over the years have been thoughtfully designed with elements, from their innovation and intelligence, to their striking designs, that no one in this industry does better.
Like The Danby Group, the 65-year-strong brand we are born from, our success and establishment is not based on simply the years that have passed, but on those we have genuinely pleased through the Silhouette experience.
We believe you are what's worth celebrating.
May all of your warmest memories be expertly chilled.
Experience Refrigeration, Reimagined.
The art of cold has been mastered by Silhouette's product design team with extraordinary combination of concept and craftsmanship. The selection of refrigeration statement pieces has evolved over time through an aesthetic enlightenment process, resulting in stunning products that are satisfying to see and be seen with.
See your fantasies in refrigeration format.
When it comes to your refrigeration technology, the full experience should exist in more than just singular celebratory moments, but each one in between as well.
Our devotion to the details and use of only premium materials make sure that high level performance is perpetual, so that you can always be confident that you own a piece of enduring elegance.
The temperatures may be low but the quality is at a covetable high.
Where Passion Meets Promise
The Extended Protection Privilege
A commitment to a flawless experience should be present in more than just design, so we've maximized the preservation of your purchase to give you ultimate peace of mind. You're making an investment and there should be no settling when it comes to safeguarding that.
Your warranty is not an obligation to us, but rather, a celebration, where we can proudly stand by the strengths of our products and our people.
We believe in remaining on the cutting edge, without ever cutting corners.
The Silhouette Brands
OUR LINE OF BUILT-IN STANDOUTS
For further proof that great things come in threes, we present to you our triple-series refrigeration selection.
Which category will satisfy your craving?
The pinnacle of cooling, performance and presence.
Entertaining experts rejoice; refrigeration royalty has arrived. Preserve a decadent range of beverages and foods in this series, created to elevate interiors with smart styling, thoughtful design and tailored technology. Get set to serve up an amplified experience to your guests.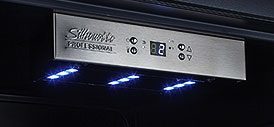 Clean, contemporary lines and bold, striking finishes beautifully blend together our iconic heritage with modern day decadence. Effortless style is evident in every Silhouette Professional series piece, set to steal the spotlight in any entertainment space.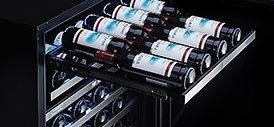 An opulent experience is found beneath the innovative interfaces and thoughtful features of each and every Silhouette Professional design. The extensive range of elements has been strategically added to deliver superior performance and the utmost usability.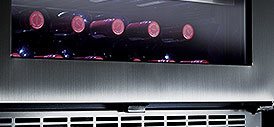 From the industry-leading temperature management system on the interiors to smudge-resistant stainless steel on the exteriors, the Silhouette Professional series is equipped with the ultimate in preservation and gratification technology inside and out.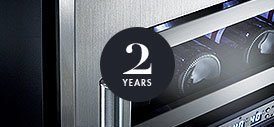 Every standout built-in featured in the Silhouette Professional series has the remarkable ability to turn a simple entertaining occasion into a memorable event. The combination of smooth style, meticulous design and ingenious technology create a brilliant appliance experience, backed by an unparalleled warranty with in-home service.
Indulge in the extras that elevate you from ordinary.
This series of striking cooling systems encourages the kind of indulgent entertainment that will take you and your guests to new places. This is regal refrigeration, detailed with tasteful touches of decadence.
Simplicity, in tempting and time-honoured form.
Pure and unpretentious, this selection is where experiential design originates. Set to stun with slick features and contemporary lines, any one of these icons will feel like an essential you won't know how you ever went without.